What Are The Health Benefits Of Hot Tubs?
Owning a Sun Ray Hot Tub is an investment in your health. Hot Tub use can change your life dramatically by reducing stress and increasing endorphin production, which strengthens the immune system. Don't put it off any longer; start-taking advantage of the healing benefits of hydrotherapy today. Hot Tub & Spa ownership and Hydrotherapy have been positively linked to the following health care issues:
Stress & Anxiety
A wide variety of health dispositions derive from stress. Sun Ray Hot Tub products function as stress management tools. Specifically, the combination of the massage jets and warm water, paired with a feeling of weightlessness, work to reduce tension in your body and decrease anxiety. 
Most people fail to realize how hard stress is on our bodies. Researchers have estimated that 80% of all disease is stress related, or compounds the disease. No wonder that most medical practitioners and disease researchers recommend hot tubs and hydrotherapy to counteract stress. There is nothing like the feel of warm water, the soothing hydrotherapy massage, and the induced relaxation, to help relieve daily anxiety, and relax tired and tense muscles.
Research has shown that managing stress is the key to good mental and physical health – and just how pervasive and lasting the damage of stress can be. Soaking in a Sun Ray Hot Tub three to four times a week, for 20 minutes or more at a time is a wonderful way to relieve stress and restore your sense of well-being (chi). Heart disease researchers have concluded that mental stress can actually cut the blood flow to the heart in some people, which in turn raises their risk of death from heart disease.
A big part of remedying anxiety is to separate yourself from the triggers that make you anxious. A hot tub is an ideal escapism in that it isolates, relaxes, and is tonally therapeutic. The calm atmosphere also allows you to clear your mind.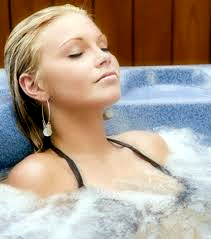 Chronic Headaches
Studies have shown that hot tubs work to reduce chronic headaches where symptoms such as tension headaches persist. The moment you begin to experience a tension headache, getting into one of our hot tubs minimizes muscle contraction and cause your headache to subside. Hot tubs work to fight sinus congestion in a similar way as well.
High Blood Pressure
If you suffer from high blood pressure, soaking in a Hot Tub can significantly reduce your bearings. Sounds like a stretch? When you immerse your body into hot water, your heart speeds up to facilitate and disperse the excess heat.  As a result, your blood flow increases as well and produces more oxygen that contributes to cell revitalization. Although you will experience a brief initial spike in your blood pressure, once your body adapts to the warmth, your cells will dilate, decreasing the resistant in the heart and ultimately lower your blood pressure.
Relax Tense Muscles
There's a reason why professional athletes find solace in a hot tub after a tense game of football, basketball, or hockey; it soothes sore and tense muscles. If it can relieve muscles that perform at high intensity, imagine what it can do for less. 
Sleep Benefits
Rest is essential for productivity and personal health. Our hot tubs are equivalent to "counting sheep"—they work to induce sleep. When you are cold your body shivers, becomes tense, and your mobility decreases. Your body overworks when it experiences cold temperatures to keep body heat up. Relaxing in hot water before bedtime can promote a natural and deeper sleep using the body's own chemistry. It helps to trigger REM sleep, which has a positive impact on your mental health, metabolism, and mood.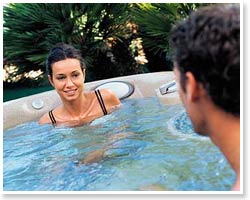 Diabetes Benefits
The fastest growing disease in North America is Type 2 Diabetes. Research has shown that controlling blood glucose (sugar) levels is the only defense against the disease, and the major contributing side effects. The New England Journal of Medicine credited hot tubs for helping a group of Type 2 diabetics reduce their blood sugar levels and improve their sleep patterns.
Soaking in a hot tub can combat the negative impacts of diabetes. A study by the McKee Medical Centre in Loveland, CO suggested that soaking in a hot tub for 30 minutes a day could reduce the amount of insulin used to control diabetes by as much as 18 percent.
Arthritis and Pain Relief
Hydrotherapy is one of the more popular treatments for arthritis, athletic joint and muscle pain relief, restoring and preserving strength. It also protects joints from further strain. The warm water works to make collagen tissue more stretchable, so movement can resume with less pain and helps restore your range of motion. Further, the buoyancy that develops in the water courtesy of our world-class massage jets causes your muscles to relax and joint inflammation is also reduced as a result.
Four out of five Americans suffer from chronic back pain, according to the U.S. National Institutes of Health. Many studies show that hydrotherapy alleviates lower back pain and knee ailments by reducing stress and stiffness.
Cardiovascular Health
Hydrotherapy is often praised for the impact it has on cardiovascular health. When you immerse yourself in the warm water, up to your neck, doctors report that it gives patients a cardiac workout. Explained, because water puts a significant amount of pressure on your body it increases your cardiac volume. Your heart works harder, but in a much more relaxing way. A recent study at the Mayo Clinic found that soaking in a hot bath gives many of the health benefits of exercise with less strain on the heart. Soaking in a hot bath increases the heart rate while it lowers blood pressure rather than raising it as does other forms of exercise.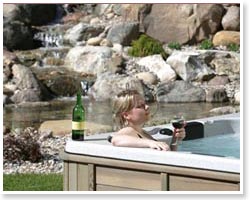 Healthier Skin
Hot tub Spa treatments promote healthier and younger-looking skin.  The warm water facilitates and increases the blood circulation.  Once that is activated, your body becomes more efficient in delivering oxygen and nutrients to your skin. Making hydrotherapy a regular part of your routine will result in healthy, glowing skin over time.
Improved Immune Function
The enlarged blood vessels that come with immersion in the warm water of a hot tub can bring relief to soakers suffering from sinus allergies or the common cold It also helps to unclog nasal passages.
Increasing the body's temperature to 103° F / 39.4° C in a hot tub can increase the number of virus and bacteria fighting white blood cells three-fold. Most cold and flu viruses don't multiply above 101.6° F / 38.6° C. Soaking in a Hot Tub for 20 minutes before bedtime helps the immune system fight against disease and bacteria.
The body's immune system works better to fight the fight when teamed with reduced body tension and stress.
Finally
Hydrotherapy promotes relaxation and simple enjoyment. Our hot tubs are designed to accommodate luxury and pleasure. It is okay to take a moment from your busy life to just sit, unwind, and be in the moment.
If you believe you can benefit from our hydrotherapy, make an appointment or come down to our showroom on the South side of Edmonton and get a head start on restoring and maintaining your health, your comfort, and your life. We're confident that we have the best hot tubs in Edmonton.