"Quality Meets Affordability"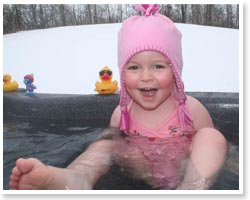 At Sun Ray Hot Tubs & Patio Edmonton, we've taken the guesswork out of finding the perfect spa and have designed comfortable, durable, energy efficient hot tubs that are also affordable. We think the process of finding the perfect spa should be just as comfortable as soaking in one.
Just imagine yourself relaxing under the stars after a long day at work or spending some quality time as a family catching up on the day. With 30 years of experience in our city building, servicing and delivering hot tubs you can feel confident that we are building the perfect hot tub for your family to enjoy for many years to come.
Sun Ray Hot Tubs & Patio Edmonton also guarantees the lowest prices on all of our products. If you find a lower price anywhere else, we guarantee we will beat that price. That's another way Sun Ray Hot Tubs & Patio Edmonton offers you peace of mind.
"We Believe In Family"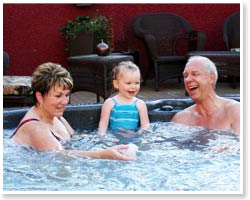 We believe family time should be experienced as often as possible!
From get-togethers with friends, to quality time as a family, there is no better place to enjoy someone's company than relaxing at home in a Sun Ray Spa.
A hot tub or spa in your backyard is a luxurious way to spend time with your loved ones without leaving the comfort of your home. Forget "are we there yet", with a hot tub or spa from Sun Ray, you're already there.
"Superior Manufacturing"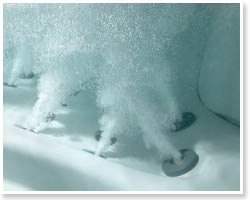 We believe energy efficient hot tubs that are also easy to maintain are important elements in today's market. It isn't enough to just produce a hot tub that looks good on the outside-it needs to perform at its peak at all times.
It needs to be designed for the climate that it is being used in and it needs to be built to withstand extreme climate changes from one year to the next. Sun Ray hot tubs are built for performance! From the vacuum formed cast acrylic surface to the vinyl ester resin bonding process used. Sun Ray Hot Tubs & Patio Edmonton hot tubs are built to outlast all other hot tubs.

A huge part of this ability dates back to 1993 when the Founders began servicing other Manufacturers products, this was prior to ever manufacturing the first Hot Tub.
Ask one of our sales associates to explain the Sun Ray Hot Tubs & Patio Edmonton difference.
"Top Notch Manufacturing Materials"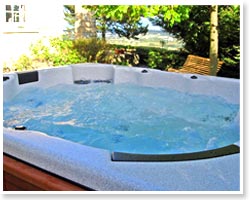 All of our spas feature Lucite® cast acrylic with optional Microban® - one of the most durable and easy to clean spa surfaces on the market. Microban® technology is built into a product during the manufacturing process and becomes an intrinsic part of the product inside and at the surface. When microbes, such as bacteria that can cause stains, odors and product deterioration, come in contact with the product surface, Microban® protection penetrates the cell wall of the microbe and disrupts key cell functions so that the microbe cannot function, grow or reproduce.
Our custom mold department has many years experience designing hot tubs to fit the contours of your body, and give support where it is needed the most.
We offer designs with lounge seats for a truly relaxing experience, therapeutic massage jets to ease away your stress, and custom lighting to help you set the mood.
Come in and see the difference for yourself. At Sun Ray Hot Tubs & Patio Edmonton, we believe in quality because we care.