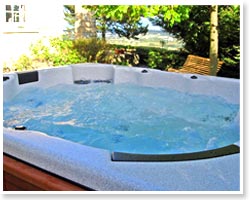 Where's the Hot Tub?
That is perhaps one of the most common questions associated with any vacation or quick weekend getaway. Hot tubs are often associated with relaxation, comfort, and unwinding. And though frequently associated with experiences beyond your residence, Sunray Spas can facilitate this form of first-class relaxation by bringing the hot tub spa experience right to your home. Not Convinced?
Why Should I Get My Own Hot Tub?
Besides stating the extreme obvious, installing a hot tub in your home indulges a series of benefits.
Personal Oasis
A hot tub is a relaxing safe haven that allows you to express your personality in both design and enjoyment. When you choose to install a Sunray Spa, you are choosing to put yourself first. A hot tub at home allows you to customize the size, colour, capacity, lighting, sound system, and location of your spa. Having full control over these design features optimizes your enjoyment. By personalizing your hot tub, you create a space in which you can express yourself and cater to your needs and the needs of your family. Whether the motivation for your installation is for hosting, family gatherings, or romance, it is your opportunity to fulfill your vision.
Health Benefits
Even when you are relaxing your health is a priority. Sunray Spas helps you to do just that. There are a number of health benefits associated with hot tubs. These include: • Lowers blood pressure • Improves sleep • Lowers blood sugar levels • Reduces stress and anxiety • Promotes healthier looking skin • Reduces tension headaches • Relieves tense muscles Collectively, the temperature of the water, the impact of the jets, your biology, and the overall environment work to produce a positive outcome on your overall heath.
Convenience
Perhaps one of the most exciting outcomes of a hot tub at home is the convenience. As mentioned previously, hot tubs are typically only associated with hotels, vacations, and getaways. It is really special to have unfettered access to your relaxation. Sometimes the trip to a phenomenal space is just as exhausting as being exhausted. When your hot tub spa is within a few meters of your kitchen or your bedroom, you can experience the relief you crave at a much faster rate.
Conservation
Hot tubs also help to converse water. Unlike soaking in a bath that must be drained of all water immediately after, hot tubs function on a self-cleaning basis and the water need only be drained and refilled every three months.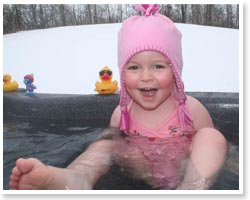 In addition, having a hot tub in the comfort of your own home gives you the power to regulate who gets in and who gets out. For hygienic purposes this is important. When sharing a hot tub with a series of different people, you can expose yourself and your family to potential health hazards and risk factors.
Relaxation
Returning then to the obvious, a hot tub is a great way to relax and enjoy your company or the company of others. You can conveniently read a book, watch a film, socialize, or simply just sit and enjoy the soothing sounds of the jets and the calm atmosphere.
What should I look for when selecting a hot tub?
When considering one of Sunray Spas, HOT TUBS everyone's needs are different. Some people are interested in the power of the jets while others care about how it will look in their home. We aim to cater to your specific needs. However, there are a few tips and features to think about as you make your purchase:
Size matters
It is easy to get excited when you view our catalogue of hot tubs, but it is important to consider the space in your home and the space in our showroom. Sunray Spas is always willing to send one of our professional contractors to assess your space and advise you how best to utilize your space to execute your vision in the most satisfying way possible.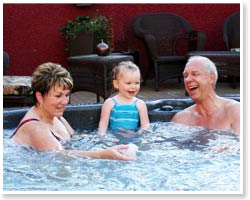 It's easy to worry about the cost of installing a hot tub in your home. However, the process is very affordable and it is an investment that is worth your while. Further, Sunray Spas offers financing options to meet the needs of our clients to make certain that your vision for your home spa is attainable.
Get Creative
Finally, do some research. Develop creative ideas for customizing your hot tub. If lighting fascinates you, perhaps look into different LED features that may take your hot tub to the next level. If sound systems are more your speed, research those custom options. Hot tubs can transform your relaxation experience at home. We're ready to help you take the spa home. To book your consultation, contact us now.