Outdoor Fireplace Supplier in Edmonton
Introducing the 60,000 BTU Outdoor Gas Fireplace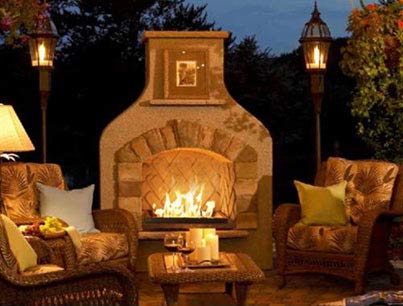 Since, literally, the dawn of time, people have been drawn to fire. Within its glow we have sought safety and warmth. Around it we have established community and good will.
Over thousands of years this hasn't changed; we are still compelled to gather around a fireplace.  How many memories have been created, stories told, and laughter shared to the accompaniment of softly flickering flames?
Here's your opportunity to bring that sense of gathering to your own back yard with this, Sun Ray's premium model 60,000 BTU Outdoor Gas Fireplace.
The onset of cooler autumn evenings shouldn't keep you inside once the sun has set. You, your friends, and family can collect your wine glasses after dinner and gather around this gorgeous centrepiece within the privacy of your own backyard, no matter chill in the air.  With its incomparable warmth you will find yourselves sitting late into the evening, enjoying nature, the stars, and good conversation. The high-heat output will warm you and your guests allowing everyone to enjoy those cooler nights, dramatically extending your 'backyard season'; you'll be able to enjoy your own comfy oasis early in the Spring and continue well into the Fall months.
The unit is constructed from the highest quality materials; a durable steel frame is topped with a weather resistant-stucco ensuring many years of carefree enjoyment. It's golden 'stone' finish will create a calm, peaceful ambiance, increasing the value of your home and your lifestyle.They are portable, providing you with flexibility in your landscaping plans while removing the pressure of committing to a permanent location, unlike built-in fireplaces. This also gives you the option of taking it with you should you decide to move, or can serve as a great negotiating tool if you decide to sell. 
This means that, more than just the most impressive feature that you will add to your property, the Sun Ray Fireplace is an investment in your home.
Once purchased, our team of professional installers can deliver your fireplace and even assemble it for you. If you're a do-it-yourself sort, rest assured that it comes in 3-4, easy to assemble pieces (though we will always recommend a licensed pipe fitter to complete the gas hook-ups).
Just imagine how this Outdoor Fireplace will completely enhance the look and increase the 'usability' of your backyard! From lively get-togethers with friends, to the all-important quality time as a family away from devices. Or even just to curl up in front of with a good book; there is no better place to connect, unwind, and entertain than in than your own backyard around this beautiful, functional fireplace.
In addition, they can be used during a fire ban and, since it is powered by either Natural gas or Propane, your clothes and hair will never smell of smoke.
Finally, Sun Ray is so confident that it is offering the lowest prices on all of our products that, if you find a lower regular retail price on a comparable product anywhere else, we will beat that price.
Here are just a few of the ways that Sun Ray offers you peace of mind:
*         60,000 BTUs of heat, keeping you toasty on those chilly Alberta nights
*         Propane and Natural Gas compatible, so no need for the expense or trouble of gathering and chopping wood
*         Beautiful design, adding an impressive element to your environment
*         Portable and easy to set up
*         Increase the value of your home
*         Guaranteed lowest price
Call now for your free no-obligation consultation or stop by our showroom in Edmonton for a live demo.
"Watch this Outdoor Fireplace in Action"